The Most Comprehensive Baby Chick Checklist Anywhere!
Raising day-old baby chicks isn't hard, and is delightful when everything turns out right. but doing it right involves a number of steps. You'll have more success and fewer surprises if you use this handy checklist to stay on track.
Where Do These Tips Come From?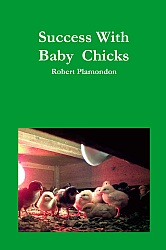 This checklist is adapted from my book, Success With Baby Chicks, available in paperback and as an eBook. Many items in the checklist refer to the individual chapters in the book that will give you lots of detailed information.
I spent years learning all the tricks of the trade before writing this book. When I started, my results with baby chicks weren't all that great, but now they are, and yours will be, too! read more...