What is a dropping board? It's a board you place under the chicken roosts, where it collects manure and smells bad.
Why would use use a dropping board? Well, there are some things in favor of them. But it also seems to be one of those 19th century poultrykeeping ideas that hang on mostly by tradition.
Disadvantages of Dropping Boards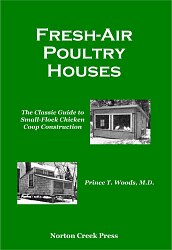 In Fresh-Air Poultry Houses, Dr. Woods wrote the following:
Recently I was in a plaster-finished closed-type poultry house where the dropping boards are scraped clean daily and sprinkled with earth. The house was decidedly smelly, though apparently clean. The manure-saturated wood of the dropping board, which has been treated frequently with disinfectants, contributed largely to the stench. I would not want a house like that and would find it unpleasant to work in one, but it seemed to suit the owner, and as he appeared so well satisfied I made no comment. read more...