Getting started with baby chicks? Robert Plamondon, author of Success With Baby Chicks, tells you what you need to know.
1. How should I brood day-old chicks?
For a complete list of steps, see my baby chick checklist.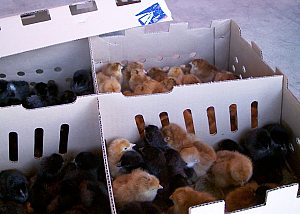 Baby chicks need an external source of heat. Naturally brooded chicks are warmed by nestling against their mothers. Groups of chicks can maintain body heat by huddling together, which is why day-old chicks can be shipped by mail.
People brooding fewer than 1,000 chicks at once generally use electric brooders.
Large commerical poultry operations generally use big propane brooders with a central brooder and a metal canopy, or hover, that retains the heat. Each brooder handles up 1,000 or more chicks. read more...