What is scratch feed, anyway?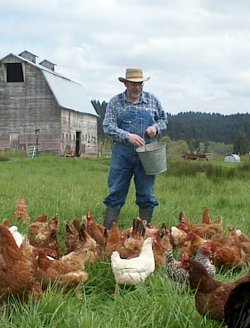 Scratch feed is both a feeding method and a type of feed:
Scratch feed as a feeding method: It's scratch feed if you feed it by scattering it on the ground (hens reveal morsels of feed and move it around by scratching at it with their feet).
Scratch feed as a type of feed: Whole grains and coarsely cracked grains are suited for feeding scattered on the ground, because they're coarse enough for hens to find and pick up individual particles, won't blow away in the wind, and won't turn to paste or soup on wet ground. Appropriate grains are sometimes bagged up and labeled as "scratch feed" or "scratch grains."
Why Feed Scratch Grains?
There are different reasons to feed scratch grains:
Taming the chickens. A one- or twice-daily feeding of scratch grains will be met with eagerness by the chickens, and if you make them come right up to you to get the grain, it will make them tame. (Chickens fed only out of bulk feeders may never get used to you.)
Getting a good look at the chickens. By running up to you, you'll get a close-up look at the chickens, which helps you spot any problems they might be having.
Getting the hens out of the nest boxes. Hens like to laze around in nest boxes after laying their eggs, and egg collection is faster and more pleasant if the hens decamp of their own free will because you've just offered them a snack!
Encouraging and directing foraging. The chickens will pick up any other yummy edibles that are in the vicinity of the scratch grain, and a bribe of scratch grain will get them to forage when they otherwise don't feel like it, such as during hot or cold weather.
Encouraging feed consumption. Similarly, if the chickens are unwell or unhappy, such as in the aftermath of being chased around by a dog, their appetite plummets and their production falls. But chickens are social eaters, even competitive eaters, and they'll eat if other chickens are eating — especially if it looks like the food might be gone if they wait! Encouraging this kind of mini feeding frenzy helps keep the chickens going.
How Much Scratch Grain to Feed
The rule of thumb is to feed no more grain than the chickens will eat in twenty minutes. That maximizes competition, which means that even hens who are feeling under the weather will be motivated to eat something. And it doesn't leave any feed on the ground to be eaten by wild birds and other critters you don't want to be feeding. Read more...