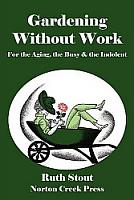 After many years out of print, I'm proud to reissue Ruth Stout's organic gardening classic: Gardening Without Work: For the Aging, the Busy, and the Indolent."
I've been a fan of Ruth's since I was ten years old, when her column was the first thing I read in each new issue of Organic Gardening magazine. Practical, funny, and irreverent, her books are even more compelling than her columns.
Gardening Without Work introduced the "permanent mulch" system of gardening, which replaces weeding and plowing with a thick mulch of straw or whatever else is available. The mulch conserves water, smothers weeds, prevents erosion, and fertilizes the soil. Perhaps it was the inspiration for modern "no-till" farming? I don't know. Although
Ruth died thirty years ago, her writing has legions of fans, and you'll see why
when you read it!
You can order Gardening Without Work from any online or brick-and-mortar bookstore.
Thoughts? Questions? Comments?
I'm wondering what your thoughts are on this issue. Most of my posts are based on input from people like you, so leave a comment below!