Hens with the free run of a grass pasture not only lay more nutritious eggs, better-tasting eggs, they lay bigger eggs.
In spite of decades of selective breeding to ensure that most eggs fall into the Large size range, my hens insist on laying mostly Extra Large eggs. This is something of a nuisance, since customers prefer Large, but them's the breaks.
The cause is presumably better nutrition. Like us, chickens should eat fresh greens in addition to processed stuff. Given half a chance, they do, and it improves the flavor, nutritional content, and size of the eggs.
Few people seem to know this, which is why people insist on building mud-yard free-range operations that have zero potential for producing a product that's superior to what's in the supermarket. The secret ingredient is not outdoor access, but grass.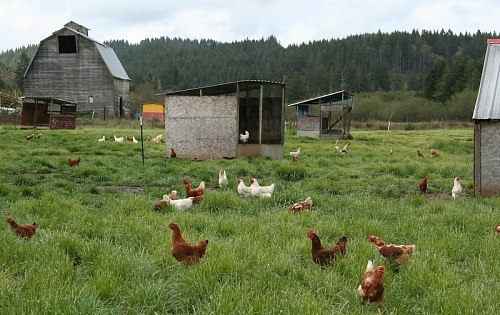 Thoughts? Questions? Comments?
I'm wondering what your thoughts are on this issue. Most of my posts are based on input from people like you, so leave a comment below!