When I was eight years old, I went out trick-or-treating by myself, returning hours later (long after dark) with an immense bag of swag. In those days, this sort of thing wasn't remarkable. The urban myth about razor blades in the treats hadn't made the rounds yet. The world was a reasonably safe place for kids, and everyone knew it. Kids went outside to play and were supposed to be home by dark, or dinnertime, or bedtime, or something. It worked great.
Nowadays everyone is terrified by the idea of independent kids, although it's as safe as it ever was, so they keep the kids in sight at all times — until they are suddenly left on their own in their mid-to-late teens. What's the point of cloistering our kids in this way, other than leaving them more dependent and less competent, while driving their parents crazy?
Which is why it's such a relief to read books about active, competent, take-charge kids. This is what fuels my wife Karen's passion for old-fashioned boy's adventure books, like the Tom Slade series, which she's bringing back into print. We'll be releasing the third volume (Tom Slade on the River) soon. Kids who get out and do stuff, have adventures, and generally (but not always) do more good than harm. It takes me back. Hard to believe that kids are being raised in such a way that they don't get a taste of this until adulthood.
You can check out our Tom Slade page on our Norton Creek Press Web site.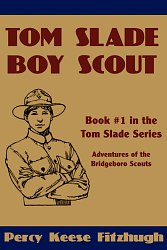 Thoughts? Questions? Comments?
I'm wondering what your thoughts are on this issue. Most of my posts are based on input from people like you, so leave a comment below!