When picking a date for the first day of the farmer's market season, could you find a better choice than Earth Day?
(Okay, technically Earth Day isn't until Thursday, but the big blow-out was Saturday, and it was great!)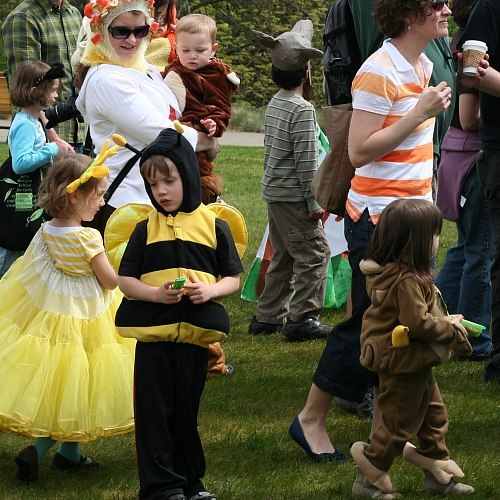 The market opened in beautiful spring weather and attracted swarms of happy customers. It was like being hit by a cheerfulness bomb! You should have been there.
As usual, the other vendors outdid themselves. Imagine the kinds of produce that ought to be ripe by mid-April, and the quality you'd expect for such early produce. Then multiply it by ten. That's the Corvallis farmer's market. All the aging hippies who've been in the organic produce biz since the Seventies have gotten really good at it! Competition for quality, variety, and earliness is intense. There were even some local strawberries — six weeks before the regular season.
I sold out of chicken in about ten seconds. Customers know we're the best! Once we're in full production, supplies ought to last longer. The eggs held out better, and I sold about 60 dozen, which is excellent for an opening day.
The day was enlivened by the Procession of the Species, a parade that's always held on Earth Day in Corvallis, featuring kids and adults in animal costumers. That was great!
The Corvallis farmers' markets are something special. Wish you were here!
Thoughts? Questions? Comments?
I'm wondering what your thoughts are on this issue. Most of my posts are based on input from people like you, so leave a comment below!