News from the Farm
Our  farmer's market season ended the day before Thanksgiving. We have a mild climate here in Oregon, but don't kid yourself: an outdoor farmer's market in November can be challenging! One market was canceled due to high winds. We've had some heavy rains, with 3.5 inches of rain falling on Thanksgiving day alone! This flooded our back pasture, and the hens there were wading through a couple of inches of slow-moving water for a day or two. They weren't enthusiastic about this, but they didn't panic, either. Things are now back to normal. One of the things that's part of the package when you do old-fashioned free range is that weather matters more than it does with confined chickens. Now that it's December, the weather is turning cold right on cue, with snow in the forecast for the first time today.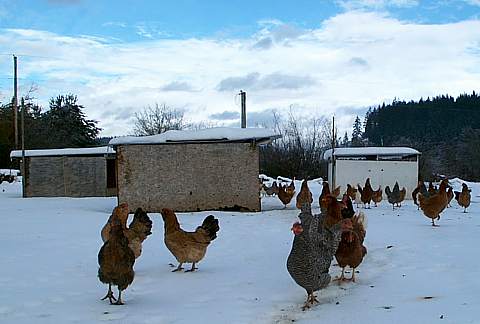 Egg production has recovered somewhat, probably due to our use of lights, as discussed in my October newsletter.
We had some mystery predators killing a few hens on the back pasture. This seems to have stopped after we added some solar-powered anti-predator blinky lights. I'm trying the Yinghao anti-predator lights: so far, they seem excellent, both fancier and cheaper than the Nite Guard lights I use on the front pasture. Both models have simple red LED lights that blink all night. These are supposed to make predators think they're being glared at by other predators. They work pretty well.
My Neighbor Invented the Modern Christmas Tree
One of the inventors of the modern Christmas tree, Hal Schudel, lived a mile or so up the road from us. He introduced all sorts of innovations, including hauling out the trees by helicopter to eliminate the need for roads and their attendant erosion, and the introduction of the Noble Fir as a premium Christmas Tree. Hal, who was once an agronomy professor at Oregon State University, knew a good tree when he saw it! He also figured out how to raise them sustainably in bulk and help many farmers make a living from them. He passed away two years ago at the age of 96. read more...