Robert Plamondon's Poultry Newsletter, November 2016
News from the Farm
Hey, let's experiment with giving the news in bullet-point form!
Just three more weeks in our 2016 Farmer's Market season. Here in Corvallis, we're among the proud-but-shivering vendors in the November outdoor markets.
Karen reports that the seasonal decline in egg production seems to have ceased, thanks to her use of lights in the henhouses, using methods summarized last time.
Four of our six piggies have been converted into pork, ham, and bacon for customers, and we've lined up a customer to take the other two as-is. Which is just as well, since it's been raining like the dickens (or even the Bulwer-Lytton). Pigs plus rain equals mud, at least when they're living the kind of outdoor lifestyle our pigs do. Our pigs have just a little Port-a-Hut shelter to sleep in, not the usual spacious roofed pig shed with a concrete floor.
We're not doing Thanksgiving turkeys this year. Why not? One reason is that heritage-breed turkeys have a distressing tendency to escape and vanish en masse into the woods, never to return. We were hatching our own turkey eggs until the breeding flock skedaddled. And just to rub it in, about twenty wild turkeys are hanging around the farm, bold as brass.
I suspect that modern broad-breasted turkeys are more likely to stay put, partly because they're less agile, partly because they dislike going far from the feed trough, and partly because they grow at least twice as fast, leaving that much less time for them to get any funny ideas. This would involve buying day-old poults during the summer, since spring-hatched poults would be the size of hippos. A neighbor down the road has a nice flock of white broad-breasted turkeys that are still where they're supposed to be.
We won't be doing many new projects until the new year. My current feeling about brooding pullet chicks in the winter is that it's a great idea once you get the moves down, but, for our personal convenience, not during the holidays. January is soon enough.
Publishing News
Jack & the Magic Software: A Future Fairy Tale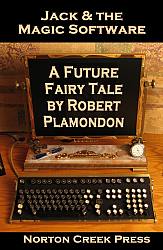 My science fiction novel, One Survivor, contains a number of things that might seem extraneous in a book that starts with a space battle. This includes three fairy tales, a prophetic flight simulator run, and much else. I've broken out one of the fairy tales as a stand-alone Kindle e-book: Jack & the Magic Software: A Future Fairy Tale.  It's yours for a measly ninety-nine cents. Read more...