If you raise chickens, you get some dirty eggs. Is egg washing okay, and, if so, how? And how can you minimize the number of dirty eggs? Read on! I'll cover the basic egg cleaning concepts, how to wash eggs by hand, and what you need to know about both homemade and commercial egg washing machines.
1. Is it okay to wash eggs?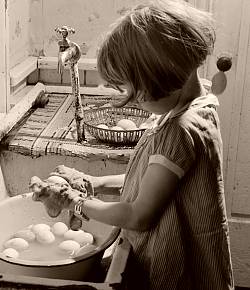 It's okay by me! Some jurisdictions have laws forbidding you to wash any eggs that you're going to sell. Some have laws requiring that you wash any eggs you're going to sell. I'll go into that further on. read more...