1. What is Free Range?
There are three basic definitions of free range (as it applies to chickens). One is correct; two are bogus.
The correct definition of free range is:
Free-range poultry are, for practical purposes, unfenced, and are encouraged to spend most of their time outdoors, weather permitting.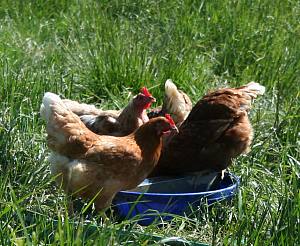 Free-range poultry are often not fenced at all. When they are, the fences need to be distant from the birds. True free-range flocks are generally fed and watered outside. This encourages (in fact, forces) the birds to spend time outdoors and keeps the houses cleaner and drier. Read more...