Karen got six little piggies on Monday. They're up on the back forty where we could use extra fertility. Pigs dig up the ground something fierce, leaving it rough, but they also leave it fertile.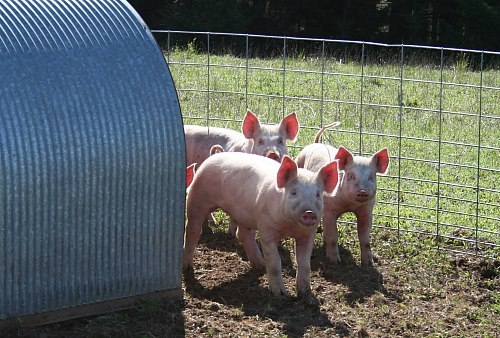 Pigs are fun and trouble-free if you don't keep them too long. They're way too smart and they get awfully big. The last month or so can easily become a battle of wits that the farmer loses.
We keep them on pasture, first in a sixteen-foot square of lightweight hog panels, then a larger area of electric fencing. Pigs can get significant amounts of nutrition from pasture. We use galvanized "Porta-Huts" for pig houses. These can be dragged around pretty easily by hand and tossed into the back of a pickup truck for longer moves.
We sell pork by the half-pig to customers who sign up in advance. This year, for the first time, Karen called the butcher (The Farmer's Helper in Harrisburg, Oregon — they're the best) as soon as she got the pigs, and set a butcher date (August 15). That's farming for you. You don't even get a day to enjoy the little piggies without considering their future as pork and bacon. Last year we had to keep the pigs about six weeks longer than we wanted, past the dry season and into the soggy Oregon winter, because we didn't get on the schedule soon enough. Never again!
Thoughts? Questions? Comments?
I'm wondering what your thoughts are on this issue. Most of my posts are based on input from people like you, so leave a comment below!