Keeping the chickens' water ice-free during the winter can be a struggle! Here are some easy ways to make it happen.
Galvanized Buckets for Winter Waterers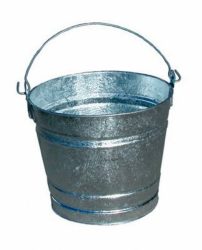 The classic technique for full-grown chickens is the old bucket switcheroo: when you go out to tend the chickens, you bring out a galvanized bucket of warm water, and leave it for them to drink from. When you leave, you take away the partly empty bucket you left for them last time, because if it's not empty, it's frozen. You bring the frozen bucket inside with you and leave it in a place where it will thaw a little, so the ice will slide out easily. Read more...