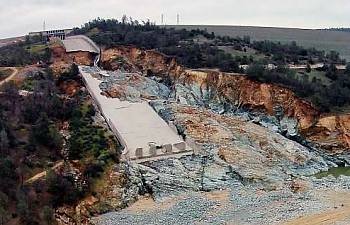 After the recent failure of the Oroville dam's main spillway, the question I keep asking myself is, "Where did the engineers go to school?"
Back in 1889, the South Fork Dam broke after heavy rains, opening up like a zipper and flooding Johnstown, Pennsylvania, killing 2,209 people. The dam had overflowed, and dams fail catastrophically when this happens. Especially earth-fill dams.
In Johnstown, the dam had been designed and built properly, opening in 1853. It acted as a reservoir for a canal system. To prevent failure, it had three large iron pipes with valves at the bottom, allowing water to be be released in high volume at no risk. The main spillway, which gave an alternate path for surplus water from the dam when it was full, was nowhere near the earth-fill portion of the dam, but was blasted out of bedrock in the surrounding hill. read more...