Robert Plamondon's Poultry Newsletter, June 16, 2007
If you didn't ask for this newsletter, or don't want it anymore, please scroll down to the bottom of the message for easy instructions to make your subscription go away.
News From the Farm
Found Our Dream Car
Last time, as you'll recall, I was looking for something to replace our trusty 1990 Ford Taurus station wagon as our farmer's market vehicle. It was no longer big enough to hold all the stuff we take to the market. It would hold four giant, 120-qt coolers, which comes to about 80 dozen eggs and 40 broilers, but we wanted more. Besides, the transmission was going, which meant the time to choose was now.
We quickly decided on a 1993 Volkswagen EuroVan. Actually, I'd never even noticed the EuroVan before, since it was introduced during Volkswagen's, "Let's never have an ad that anyone notices" period before the New Beetle. But it's basically a passenger version of a European delivery van, so it's rugged, has an enormous amount of room inside, carries nearly three-quarters of a ton, and (this was important to us) fits in our space at the Corvallis Saturday Farmer's Market, so we can just park, rather than unload everything and drive away. We're not getting any younger.
In addition to holding a lot of stuff, there's a swing-up table in the back. I recently picked up a half-ton of feed at Union Point Custom Feeds in Brownsville (highly recommended), and we stacked the sacks so that I could climb over the sacks and sit at the table. I had a phone meeting in a few minutes and wanted to see the presentation over my laptop and listen over my cell phone. I drove into Brownsville and got a good wireless signal from the cafe/bakery where I bought lunch. This kept me from missing my meeting in spite of the detour on the way home. So the van is a 21st-century office and a feed hauler at the same time!0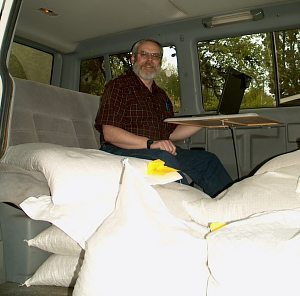 We ended up with a 1993. It didn't cost much, but with a vehicle this old, my experience is that you have to expect to do about $2,000 worth of repairs immediately -- and that's what happened. Had be bought a newer unit, we'd have expected to pay more up front and less at the shop. Engine/drivetrain parts are readily available, as they always are with VW's, but interior parts are more iffy.
I recommend this vehicle (especially the MV model with the table and the back seat that turns into the bed) as a farmers' market vehicle, a portable office, and as a family car. We're getting 20 mpg, which is good for a half-ton vehicle that seats seven.
The EuroVan hasn't been manufactured since 2003, so a used one is your only option. Oddly, they were not imported (except as camper conversion) in 1994-1998, so your choices are 1998 and 1999-2003.
If you're in an area where VW's are few and far between, you might want to be careful. Our area is swarming with VW vans, so there's a selection of vans for sale and parts in the junk yard. There are also specialty repair shops, such as the excellent "Independent Bug Werks" in Corvallis, that will take care of you.
Anyone want a Taurus station wagon with a failing transmission?
High-Class Farmer's Markets
The Corvallis Saturday Farmers Market is a spiffy operation, held in the renovated waterfront area downtown, and with lots of high-grade goods for sale. Every year the produce gets fancier and more varied, and the crowds get bigger. This is a fun market, whether you're buying or selling.
Being downtown, it's possible for people to put a quick dash through the market on their to-do list, meaning we get quite a bit of traffic even when it's cold and rainy. The Wednesday market, on the other hand, is out at the Fairgrounds, conflicts with people's work schedules, and isn't on the way to anywhere else. It has a lovely setting (the booths are on the grass under two rows of tall trees), but it's a fairly slow market until summer vacation starts.
If you want to either buy or sell at a Farmer's Market, you probably want to seek out the most upscale market in your area. Vendors will be sure to bring their best wares to this market, and the competition on quality will bring the standards up year by year.
One interesting phenomeon at the high-grade markets is that the organically certified vendors have been distancing themselves from the rest of the organic industry. The farmers with the classiest products will go out of business if the consumers confuse their hand-raised efforts with the mass-produced organic agribiz stuff. It's sort of funny listening to the farmers trying to explain to the Organic Faithful that two pints of strawberries, each with an "Organic" sticker, won't necessarily taste the same.
The secret weapon here is free samples; you can talk farm techniques and "best varieties" till you're blue in the face, but the proof of the pudding is in the eating. Because of free samples, the folks with the best berries always sell out first, which is as it should be.
Pullets
The pullets I mentioned last time are laying up a storm. As usual, they took to pasture very quickly, once they were convinced that they needed to go outdoors to find food (our feeders are outside). We had to chase them out of the houses every day for a while there, until they got the message.
These are commercial White Leghorns whose beaks have been trimmed. There's a lot of nonsense about "debeaking" in the more touchy-feelie, never-been-to-a-farm animal welfare press, including the belief that such bird can't forage, are crippled by constant pain, or even can't eat at all, but I've purchased thousands of beak-trimmed birds over the years and are just as active and happy and effective on low-density free range as any others. (I don't bother with beak-trimming myself, but when we buy hens from the University flock or commercial growers, they're already beak-trimmed.) Similarly, I've heard people claim that White Leghorns aren't "real chickens" and won't do well except in factory farms, when in fact they do wonderfully on extensive range. (Range is the best place for them, actually, since Leghorns are panicky, and this is a lot less of a problem if they have acres of space to be panicky in.) You shouldn't hesitate to try debeaked hens or White Leghorns if you get the opportunity.
The trick with "rescue hens" who have been in cages is to take extra care with them for the first few days and either house them by themselves or acquire them in large enough numbers that they can't be bullied by your existing hens. Moving from cages to range is a big transition for them and it takes them a while to work up the confidence to move large distances to feed or water. If you only have a few "rescue hens" and they have to go past your existing, confident, bullying chickens, they may refuse to do so, hiding in a corner and dying of hunger or thirst a few feet from food and water.
Other than providing a supportive environment for the "rescue chickens" during the first few days, there's not much to it.
If you're used to standard-breed hens, you'll be surprised at how well commercial hens lay, even hens that have already gone through two laying seasons.
The stress of the transition will cause them all to stop laying temporarily, though, so don't be surprised when this happens.
The Year of the Crow
Last year was The Year of the Bobcat -- we had bobcats eating our chickens all year. This has died down, but now we have crows eating huge numbers of our eggs. This has never happened before. We're going to try a whole bunch of things to get rid of them, and will let you know what works (if anything) next time.
June To-Do List
Inspired by a similar list in Jull's Successful Poultry Management, McGraw-Hill, 1943.
Market or butcher surplus cockerels.
Cull early molting hens.
Replace litter.
Provide shade on range.
Provide additional ventilation.
Gather eggs more frequently in warm weather.
Cull weak or unthrifty individuals.