Sign Up For My Free Poultry Newsletter!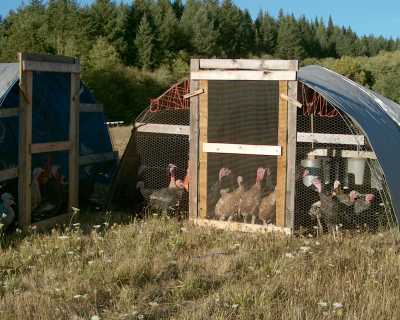 Sign Up For My Free Monthly e-Newsletter!
Full of news and tips from my farm.
Practical and Funny!
My name is Robert Plamondon, and I keep a flock of 600 free-range hens and my wife raises over 1,000 pastured broilers and 60 turkeys per year on our 37-acre farm in Blodgett, Oregon. I have written a book on brooding poultry (Success With Baby Chicks) and started my own little company, Norton Creek Press, to publish it and several other poultry books.
I've also started a newsletter that I send out by email 1-3 times per month. The first issue of every month contains a to-do list of poultry tasks for the coming month. Every issue contains news from the farm, suggestions about how to avoid problems, and other helpful information. I also include a lot of techniques from farm magazines and poultry books from 1900-1960, when the accumulated wisdom of millions of small farmers regularly made its way into print.
I keep the newsletters short, useful, and funny. Check out the newsletters in the archive to see what I mean, and sign up for the newsletter below. It's free, so share with your friends!
Read a copy of a recent newsletter.
Resources On My Web Page
All the back newsletters. Over 30 in all!
Go to the Norton Creek Press home page.
Go to my Poultry Information page.
---
---