I still have the car I learned to drive on — a 1975 VW Rabbit. I like it, and Karen likes it better than I do. It's a classic economy car, one of the first modern subcompacts. Way back when, it got over 30 MPG pretty regularly.
It hasn't run in the past couple of years, but I got it running well enough today to get it onto the grass where I could wash it and check it over.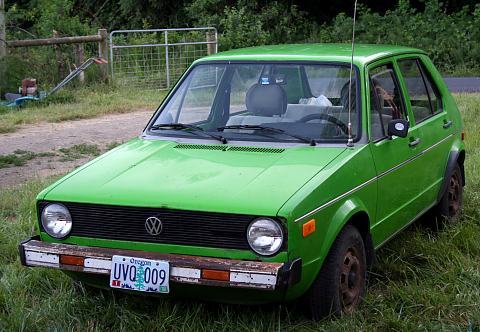 It has an undiagnosed problem that's making it run ragged, which I'll take to the mechanical geniuses at the Independent Auto Werks in Corvallis if Karen and I can't figure it out, and it needs to have the rust fixed and a new coat of paint. And a new stereo. Other than that, it's as good as it ever was, which was pretty good.
I don't really see the point in buying new cars. Cars last forever (at least, they do in areas where they never salt the roads), and newness lasts hardly any time at all. Nothing to get excited about. And if you want to impress your friends and neighbors, it's cheaper and more fun to do it with a classic car, which by now has acquired some personality. Not that my Rabbit is turning any heads right now — or not in a good way. But I can fix that.
I was comparing the payload capacities of my various vehicles, and I was startled to learn that, while my Isuzu Trooper has a payload of 975 pounds and 18 MPG on the highway, the 1975 Rabbit has a payload of 715 pounds and 38 MPG! The difference between a subcompact and an SUV is only five sacks of feed? Unreal!
Gas mileage hasn't really improved all that much since 1960, when a Ford Falcon could get 30 MPG and seat six. So there's a huge range of history to choose from if you're in the market for a thriftier car. No one's holding a gun to your head to buy a new car that will never save enough money on gas to make the purchase sensible. The only important leap in automotive technology since my 1975 Rabbit was built was cupholders. But we lost 10 MPH bumpers somewhere along the line, so I'm not sure it was a fair trade.

Thoughts? Questions? Comments?
I'm wondering what your thoughts are on this issue. Most of my posts are based on input from people like you, so leave a comment below!